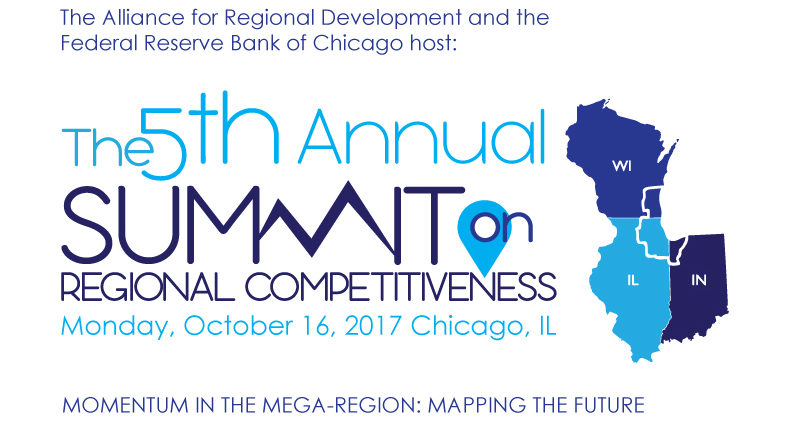 On October 16, 2017, the Alliance for Regional Development in partnership with the Federal Reserve Bank of Chicago hosted the 5th Annual Summit on Regional Competitiveness. This high-profile event, included a series of best practice vignettes, panels, and keynote speeches including:
The Future of Work…
Becky Frankiewicz, President, North America, ManpowerGroup
The Funding of Infrastructure…
Steve Schlickman, Transportation Team Manager, President, Schlickman & Associates
Jim Ray, Senior Advisor to the Secretary for Infrastructure, U.S. Department of Transportation
A Look at a Regional Workforce Initiative…
Anne Edmunds, Workforce Team Manager, Regional Vice President, ManpowerGroup
Earl Buford, President & CEO, Employ Milwaukee
Karin Norington-Reaves, CEO, Chicago Cook Workforce Partnership
Linda Woloshansky, President & CEO, Center of Workforce Innovations
Leading Journalists Discuss Hot Topics…
Niala Boodhoo, Host/Executive Producer, Illinois Public Media's The 21st
Jim Dedelow, Owner, WJOB 1230 AM
Greg Hinz, Columnist, Crain's Chicago Business
John Schmid, Reporter, Economics and Globalization, Milwaukee Journal Sentinel
Re-purposing Real Estate Impacted by Ecommerce…
Jim Ford, President & CEO, TRES LLC
Tricia Braun, Deputy Secretary & Chief Operating Officer, Wisconsin Economic Development Corporation
Steve Horvath, Principal and President, CONLON Commercial
Neil Pendleton, Managing Director, Asset Services, CBRE
Social Impact Investment…
Greg Hummel, Partner, Bryan Cave LLP
Roberta Gordon, Counsel, Bryan Cave LLP
Tom Middleton, Fellow of Advanced Leadership Institute, Harvard University
Lyneir Richardson, CEO, Chicago Trend
Planning Leaders' Transportation Priorities for the Region…
Steve Schlickman, Transportation Team Manager, President & CEO, Schlickman & Associates
Michael Hahn, Executive Director, Southeastern Wisconsin Regional Planning Commission
Joseph Szabo, Executive Director, Chicago Metropolitan Agency for Planning
Tyson Warner, Executive Director, Northwestern Indiana Regional Planning Commission
Insights About Energy as a Connector…
Paul Jones, Retired Chairman and CEO, A.O. Smith Corporation; Chairman, Alliance for Regional Development
Erik Birkerts, CEO, Clean Energy Trust
Presentation of the First "Visionary Leader" Award…
Terry Mazany, Former President & CEO, The Chicago Community Trust
Toni Preckwinkle, Board President, Cook County Government, Illinois
Showcasing the Region's Best Practices…
Michael Hostad, Executive Director, Innovation in Milwaukee (MiKE)
Dr. Byron Brazier, President, Brazier Foundation
Below are the photos, transcripts, and videos from the event.
---
Photos
Transcripts
Video
---
For more information, please contact Kelly O'Brien, President of the Alliance for Regional Development, at kobrien@alliancerd.org